Is the Turkish army underestimated or overrated?
Armenia and Azerbaijan are at war again
The fragile calm lasted only one day. On Thursday night there was another shooting at the border between Armenia and Azerbaijan. A spokeswoman for the Armenian army reported that an Azerbaijani tank was shot and an artillery position was destroyed. Azerbaijan denied it. This time there is no fighting in the Nagorno-Karabakh region, which split off from Azerbaijan in a war around 30 years ago and has since existed as an unrecognized republic, but supported by Armenia. The shooting continues further north, on the border between the two former Soviet republics around the Azerbaijani town of Tovuz.
Azerbaijani general killed
Heavy fighting with artillery has been going on there since July 12th, and both sides blame each other for it. It is difficult to determine what exactly led to the escalation. There are no reports from independent sources.
The balance so far: More than a dozen soldiers and officers killed on both sides, including an Azerbaijani general. In the past few days, thousands of people have taken to the streets in the Azerbaijani capital of Baku and other places calling for reservists to be mobilized. This is currently not necessary, said a responsible department of the Ministry of Defense on Wednesday.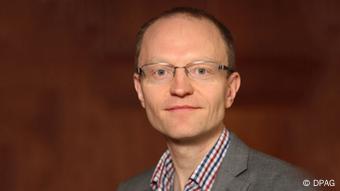 Stefan Meister from the Heinrich Böll Foundation
Observers such as Stefan Meister, office manager of the Heinrich Böll Foundation close to the Greens for the South Caucasus region, were surprised by the escalation. "It seems to me to have been more of an accident," said Meister in an interview with DW. "It seems that the Azerbaijani side went to Armenian territory and the Armenians reacted immediately. Then it escalated, they hit back with heavy weapons, and so it went back and forth." Meister assumes that the spiral of violence will continue to turn.
The solution for Nagorno-Karabakh is a long way off
Even if the situation in Nagorno-Karabakh remains calm, it is essentially about this frozen conflict. The ceasefire agreed in 1994 is fragile, but no heavy fighting has been reported in recent years. After the change of power in Armenia in 2018, there was hope for a new beginning, also in the Nagorno-Karabakh area.
The new Armenian Prime Minister Nikol Pashinyan met personally with the President of Azerbaijan Ilham Aliyev, most recently at the Munich Security Conference in February. But the joint appearance at a panel discussion showed how far apart the positions of both countries are. While Pashinyan signaled a willingness to compromise, Aliyev insisted on a complete return of Nagorno-Karabakh under Baku's control.
Most recently, Aliyev again attracted attention with martial rhetoric towards Armenia. However, Stefan Meister from the Böll Foundation does not want to overestimate them. "What I see is a great deal of frustration on the Azerbaijani side. After the Velvet Revolution in Armenia and the new government under Nikol Pashinyan, there was hope that something would move, change. I think that is over."
Given the current escalation, a convergence hardly seems possible. A new war, however, cannot be ruled out. Stefan Meister believes that the EU and the West underestimate this danger.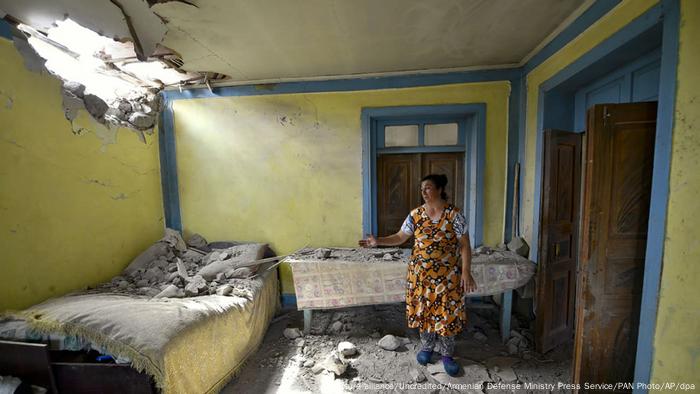 Resident of the Azerbaijani town of Tovuz shows the damage in her house after the attack by Armenian troops
Since the outbreak of the fighting there have been expressions of concern from some Western governments and the Organization for Security and Cooperation in Europe (OSCE), which is seeking a solution for Nagorno-Karabakh within the framework of the so-called Minsk Group. Germany is also involved. "The German government is very concerned about the reports of hostilities and ceasefire violations on the international border between Armenia and Azerbaijan," said the Foreign Office in Berlin when asked by DW. "We call on both sides to stop the fighting immediately and to refrain from further provocative rhetoric and actions." Berlin appealed to Baku and Yerevan to use the OSCE-Minsk group for further talks.
Will Turkey and Russia get involved?
Whether there will be a further escalation will not least depend on Turkey and Russia, which are seen as important allies or even protective powers in Azerbaijan and Armenia. Turkey demonstratively sided with Azerbaijan and promised support. "Attacks by the Armenian side" are condemned, said the Turkish Defense Minister Hulusi Akar and promised the Azerbaijani "brothers" support.
"There used to be serious rumors that Turkey had planned to set up a military base in Nakhchivan (an exclave of Azerbaijan, which is surrounded by Armenia, Iran and Turkey, editor's note)," said the Turkish political scientist Kerim Has, who lives in Moscow, told DW. "But as far as I know, this idea was not promoted because it was thought that Russia might cause trouble in response."
Russia initially reacted cautiously to the fighting in the South Caucasus and called on both sides to de-escalate. The organization of the Collective Security Treaty, a Russian-dominated military alliance of former Soviet republics in which Armenia is also represented, expressed a similar opinion. However, Russian attack helicopters were spotted on the Armenian-Turkish border on Wednesday. Russia maintains an army base in Gyumri, in western Armenia on the border with Turkey. Some observers interpreted this as a warning to Ankara not to interfere.
Collaboration: Mikhail Bushuev, Burak Unveren