WhatsApp group for fresh work
An insight into the life of the refugee mentor Arzu
originally published: 09/28/2016
New is good. Since January, Arzu and Hilal have been looking after a group of seven refugee Afghans who have found shelter in the refugee home in Bad Homburg. tbd * accompanies the group for six months and reports on their experiences. In the first article we introduced you to the group. Now it's up to Arzu and Hilal to speak. They talk about their experiences as mentors, their high and low lights and why they decided to take part in the sponsorship program of the DRK.
Smiling, she sits on the other side of the camera, comfortably on a sofa in the refugee home. There is no trace of nervousness, Arzu calmly holds her cell phone in his hand and is connected to me via Facetime. She is curious about the questions I throw at her and so I pester her for an hour with questions about her job as a mentor for the German Red Cross. What she's doing and how she feels about it. The 27-year-old answers every question I have honestly and in detail. The result is a beautiful and honest picture of what mentoring is all about.
The group that Arzu and her friend Hilal look after consists of seven young men between the ages of 17 and 26. Two are translators, Siyar and Reza, they both speak English and Afghan and are the players in the troupe, Mahboob is the calm and always happy, Ibrahim, the handsome, Taghi, the daredevil but caring, Fardin, the sportsman and Israr, the Funny, even if you don't always understand everything.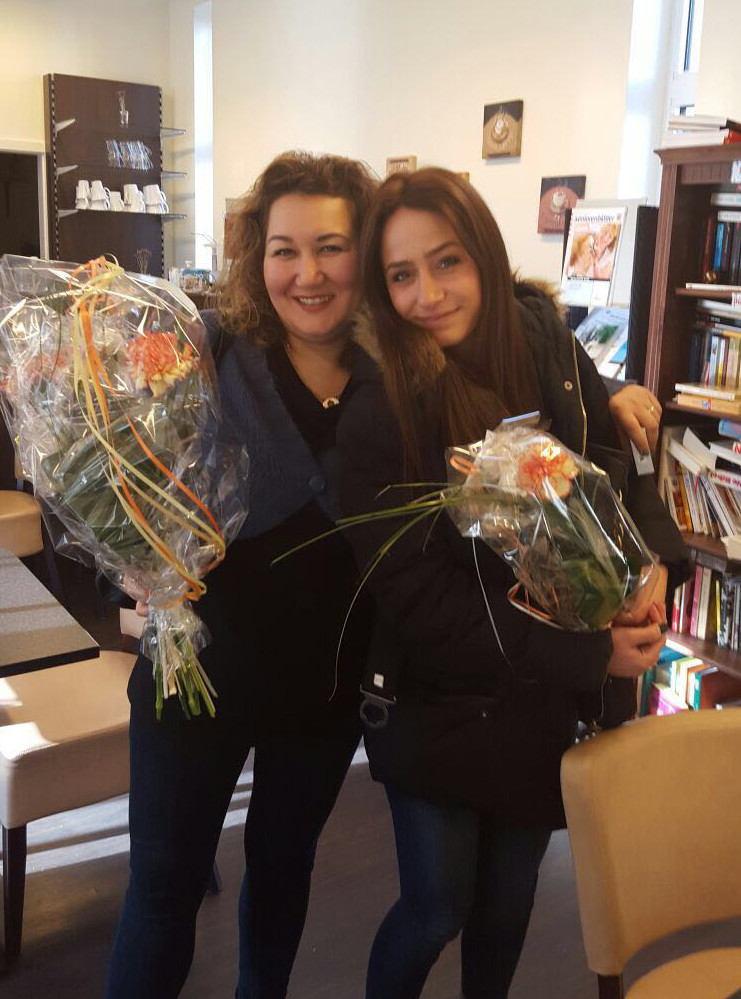 Arzu (right) with her co-mentor Hilal
The story began in December 2015 when Hilal, who is also the German teacher for Seven, invited Arzu to have breakfast with the group in the mosque. The decision was very easy for the young woman, as she had always been interested in the refugee problem, but had not found the time for it besides her work at Vodafone. In general, she had nothing to do with volunteering until then. She was nervous about joining an existing group and not knowing exactly what to expect. But the seven welcomed her warmly, talked to her immediately and were very open. And so Arzu got the opportunity to visit the refugee home and find out that the lounge for the around 200 refugees from Bad Homburg looked more than bare. She tackled it directly and decided to start an appeal for donations for clothes and furniture. With these first steps, Arzu was integrated more and more into the group.
The nine spent the last six months together and had their ups and downs. Arzu mentions the first winter excursion to the Feldberg as an absolute highlight; they went tobogganing. Some of the boys had never seen snow before and "went crazy", that was a wonderful experience.
However, there were also downs here and there, mainly because of misunderstandings and cultural differences. Even if Arzu is of Turkish descent, the cultures are not as similar as she thought. At such moments it was difficult to keep the group together.
In moments like this she would have loved to throw the whole thing up. Once, she says, one of the troops left the Whatsapp group without saying anything. Which caused quite a mess as nobody really knew what was going on and everyone was worried. It was only after a detour that they found out that the cause was an insignificant argument about a chair between two of the group. At such moments she was pretty stunned, "this problem could have been soooo easy to get out of the world, if they had just talked about it!" "no never!"
Even if it is not always easy, it is good for both of them to know that the German Red Cross is always available and supports them. Once a month there is a patent meeting for mutual exchange where you can get tips. There are seminar opportunities and you get a budget with which you can pay for the various activities so that you don't have to pull anything out of your own pocket. You don't get paid as a sponsor. "But that doesn't bother me either, I really enjoy being socially committed. The guys' gratitude is enough. And if they can then stay in Germany and maybe one day start a family, I can say that we have made a contribution. "
Even if Arzu is very convinced of her commitment, her environment reacted very differently. Many were very skeptical. With a sad expression, she tells us that her brother probably won't accept it to this day. But a lot of them would have helped and in general the opinion of many changed as soon as they got to know the seven Afghans. Hilal also agrees: "Friends sometimes ask me if I haven't already done enough. Things like that annoy me and I shut up. I don't feel like having to justify myself to others."
But not only their environment has changed, Arzu himself is no longer the same person as he was six months ago. She has become much more patient. She now knows how difficult it is to live in a country without speaking the language. She knows how important the help of other people is and that you have to learn to look for compromises in order to keep the positive atmosphere in the group going. When I ask Hilal whether her perspective on refugees has changed, she tells me that her perspective on the German population has changed. "We keep fighting against other people's prejudices, especially because we are two women with seven men. One is sometimes referred to as a naive, do-gooder or a dominatrix. The most awesome thing was when we went to the carnival parade with [the boys]. There were seven policemen running after us. You learn a lot about German society. "
And despite spending six to eight hours a week, Arzu would never see her mentoring job as work. Sure, you are in constant contact with the boys via Whatsapp, but she sees it more as free time and is also a lot of fun for her. Planning and organizing trips, such as to Buchenwald, is also pretty cool (if shocking, because most of the guys didn't know the name Hitler). Tasks like writing résumés and looking for jobs are more strenuous. But Arzu does that with heart and soul to help the boys integrate and broaden their horizons. Because Germany has a lot to offer in terms of perspectives and opportunities, you just have to think outside the box.
And so it happens that Arzu is in the refugee home several times a week. She has never felt uncomfortable there either. Everyone is very warm and with a laugh she says "they can celebrate!".
At the end of our conversation, I ask her what she would recommend to future mentors. "You have to try to get to know people without prejudice. The most important thing is the person behind it and you hear a lot of stories from which you can learn. "You should also work intensively with the refugees, once a month is not enough. The integration of young men is not easy, which is why their mentors have to work much more closely with them and support them in everyday German life. There is no such thing as a perfect age to be a sponsor. But the earlier you get to know other cultures, the more openly you look at the world. It is especially difficult at 27 because you work and want to get ahead in your job. "Some do sports, I take care of the boys," she says very lovingly. In addition, you can get to know different people at an early stage and have a direct contact person if you want to do something with refugees in the future. And in the end, Arzu even advanced in his career as a result. Namely from the Vodafone shop to the job center at the job center. Working with the boys, she noticed that she would like to work with people and immediately looked for and found a more meaningful job. Because new is good for you.
Ultimately, she can recommend a sponsorship to everyone, even if you don't get any money for it. "It's just good as a person when at the end of the day you can say: Today I did something good."
Would you like to find out more about the group? Then check our website regularly or subscribe to our newsletter! So you won't miss the big film highlight at the end of the series.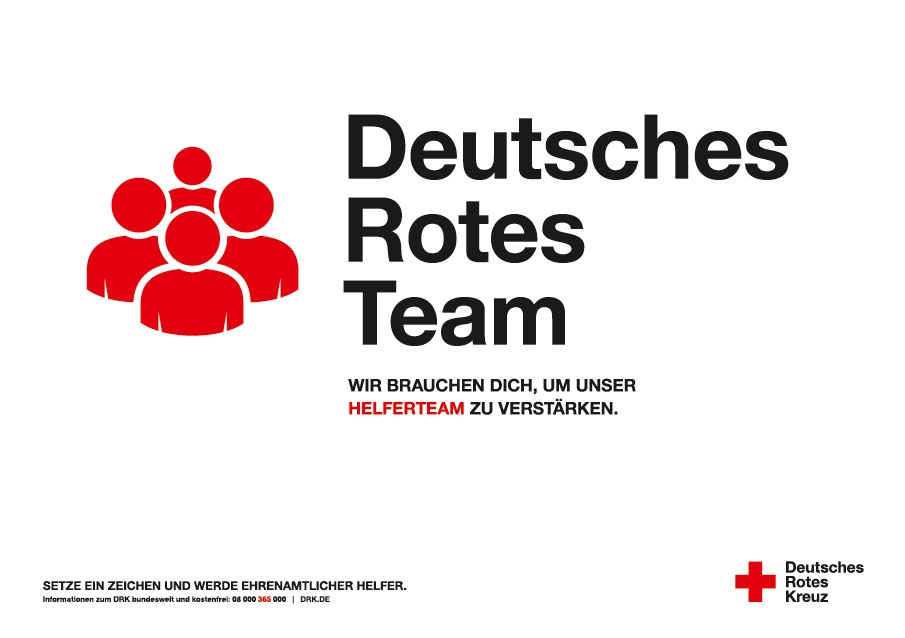 We can only tell you this story thanks to the cooperation of the German Red Cross.
German Red Cross

As a general association, the DRK currently looks after around 30,000 refugees nationwide in 369 emergency shelters. Over 25,000 full-time and voluntary DRK helpers are on duty around the clock to support the federal, state and local authorities. Your areas of responsibility are: reception, first aid, care, catering, medical service, tracing service and advice. And that in partly spontaneously set up emergency shelters or in deployed special trains. In addition, they have numerous advice and support services to enable the refugees to integrate successfully into everyday life.
Here you can find out more about the work of the DRK in the refugee area.